Taxi Service In Delhi
Book Car Rental In Delhi
It Is very Easy To Book Taxi Service In Arya Cab
Arya Cabs is providing taxi service in Delhi since 2009. We provide one side to Delhi as well as many other cities of Rajasthan and India like Udaipur, Bhilwara, Jaisalmer, Gurugram, Ajmer, Kota, Bikaner, Jodhpur, Pushkar, Agra provide round trip .
Arya cabs can easily book taxi for Delhi sightseeing and hotel to airport drop and railway station dropping if customer make advance booking few days in advance then they are given discount offer by us customer as per their convenience Innova 7 + 1 Etios 4 +1 , Crysta 7 +1 can book by calling.
Outstation Cabs Rates From Delhi
CAB - HATCHBACK
FARE STARS – 9.5 ₹ PER KM
Details
Seating Capacity – 4
AC – Yes
Luggage – 2 Bagges
CAB - SEDAN
FARE STARS – 10.5 ₹ PER KM
Details
Seating Capacity – 4
AC – Yes
Luggage – 4 Bagges
Details
Seating Capacity – 6/7
AC – Yes
Luggage – 5/6 Bagges
OUTSTATION TAXI RATES FROM DELHI
| | | | | |
| --- | --- | --- | --- | --- |
| CAB TYPE | RATES PER KM | DRIVER ALC | SEATING | PER DAY RUNNING KM |
| Hatch Back | 9.5/KM | 250 | 04 | 250 |
| Sedan | 11/KM | 250 | 04 | 250 |
| SUV | 15/KM | 250 | 06/07 | 250 |
| MOV | 23/KM | 300 | 12/14 | 300 |
Delhi Sightseeing Visit Place
Qutub Minar
Qutub Minar is the tallest tower in the world with a height of about 75 meters. It is included in the UNESCO World Heritage Site and is located in Mehrauli area of Delhi. Its construction work was started by Qutub-Din-Aibak in 1199 AD. The tower is made of red stone marble. There is a circular staircase to reach the top.
Timing :- 7.00 Am To 5.00 Pm
Fees :- 30/ Rs
Visit Timing :- 2 Hours
Lotus Temple
The Lotus Temple was opened to the public in 1986. Its name has been kept on the basis of its design. Its design was made by Fariboj Sahaba. The height of the temple is 130 feet and it has a prayer hall in which two and a half thousand people can sit together.
Timing :-
     October To March :- 9.30 Am To 5.35 Pm
     April To September :- 9.30 Am To 7.00 Pm
     Closing :- Monday
Humayun Tomb
Humayun's tomb was built by a Persian architect, it has been included in the UNESCO World Heritage Site. This tomb is located on the banks of the Yamuna near the Dargah of Saint Nizamuddin Olia. The construction of the tomb started in 1565 and was completed by 1572 AD.
Timing :- 6.00 Am To 6.00 Pm
Fees :- 30/ Rs Indian,    500/ Rs Foreign
India Gate
India Gate is also known as a war memorial located near the duty side of New Delhi. It stands as a memorial to the 84000 soldiers of the British and Indian Army who died in World War I somewhere between 1914 and 1921. Built in the memory of India Gate is counted among the major war memorials of India. This place is often the place of protests by the civil society.
Timing :- 10.00 Am To 5.00 Pm
Entry Fees :- 0/- Rs
Visit Duration :- 40 Minutes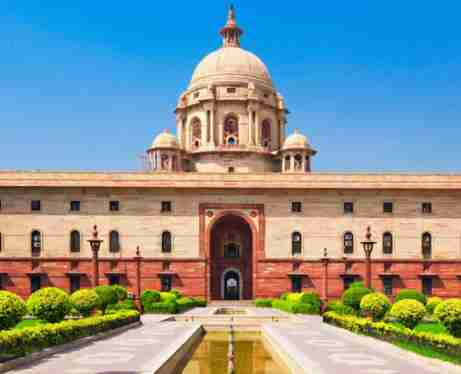 Rashtrapati Bhavan
World's largest democracy President's house Rashtrapati Bhavan is a symbol of India's strength and democratic traditions It's secular character It was Sir Lutyens who built an H shaped building covering 5 acres on a 330-acre property This mansion has 340 rooms It has 2.5 kilometers of corridors and 190 acres of gardens. Its construction was completed in 1929. Earlier it was named Government House, later it was renamed Rashtrapati Bhavan.
Timing:- 9.00 Am To 4.00 PM Friday to Sunday
Entry Fees :- 0/ Rs
Raj Ghat Delhi
The Raj Ghat Delhi India is a monument dedicated to Mahatma Gandhi. It is a marble platform that marks the cremation of Mahatma Gandhi after his assassination on 31 January 1948. At one end of it is a burning eternal flame. The monument is located on the Ring Road of Delhi. it is known as Mahatma Gandhi Road.
Timing :- 6.30Am To 6.00 Pm
Fees :- 0/ Rs
Red Fort Delhi
The Red Fort was the new capital of the fifth Mughal emperor Shah Jahan. It is made of red sandstone walls. It is adjacent to the old fort Salimgarh, built in 1546 by Islam Shah Suri. The Red Fort is considered to represent the culmination of Mughal creativity.
Timing :- 9.30 Am To 4.30 Pm
Fees :- 35 /- Rs Indian, Forigner :- 550/-Rs
Akshardham Temple Delhi
Swaminarayan Akshardham, also known as Akshardham Temple, is a popular temple for Hindus. This temple is 141 feet high, 316 feet wide and 356 feet long. It is listed as one of the best tourist places in Delhi.
First Entry Time :- 10.00 Am
Last Entry Time :- 6.30 Am
Opening :- Thuesday To Sunday
Closed :- Monday
Aarti Timing :- 10.30Am To 6.00 Pm
Visit Duration :- 40 Mintues
Jantar Mantar Delhi
Jantar Mantar was built by Maharaja Jai Singh II in Delhi in 1724. He had built 5 Vaidhsalas during his reign in the 18th century. He built Ved Shalas in these. have to guess it was in 1867 when India was under the British Raj.
Timing :- 9.00 Am To 5.00 Pm
Entry Fees
Indian Adult 50/- Rs
Indian Student 15/- Rs
Foreign Tourist 200 /- Rs
Foreign Student 100/- Rs
Jama Masjid
The Mughal Emperor Shah Jahan built the Jama Masjid at the highest point between 1650 and 1656. The mosque was designed by Ustad Ahmad Lahori and 5,000 laborers were involved in the construction of the mosque. The mosque was inaugurated on 23 July 1656 in Bukhara. Uzbekistan was done by Syed Abdul Ghafoor Bukhari. This mosque is a symbol of Mughal sovereignty in India.
Opening Timing:- 7.30Am To 12.00 Pm
                                 1.30 Pm To 6.30Pm
Fees :- 0/- Rs
Photography :- 300 /- Rs
How Can book Taxi Service in Delhi?
If you have come to visit Delhi, then you can easily book a taxi for Delhi Darshan through Arya Cabs, for booking, the customer can contact us on 9785787745 and apart from this, cab booking can also be done through WhatsApp chatting. For booking a cab, the customer has to provide an ID proof in which his permanent address is written, apart from this, the customer has to pay Rs 500 or 1000 for booking a taxi. On booking, the customer is informed through email message or WhatsApp is sent and complete confirmation of the booking is made in the notice.
Online Taxi Booking In Delhi With Arya Cab
If you have come to visit Delhi with your family, then you can enjoy the journey by booking online through Arya Cab Taxi Service. It is very easy to book a taxi on our web portal, you can call us and book a taxi by whatsapp. We provide Innova Crysta 7+1 and Etius, Dizre 4+1 type of cabs for Delhi tour. In Delhi side scene, Qutub Minar, Lotus Temple, Humayun Tomb, India Gate, Red Fort, Raj Ghat, Jantar Mantar, Akshardham Temple, Rashtrapati Bhavan are mainly visited.
Taxi & Cab Service In Delhi For Outstation 
To meet the requirement of the customers we provide outstation cab service. Customer can also book taxi through Arya cabs for 1 day and 5 days or Rajasthan trip. Minimum car 250 kms per day for outstation travel and ₹250 driver night charge. He has to pay toll tax and parking. According to the customers, we are also given tour packages to meet their needs. In this packing, toll parking driver allowance is included.
Rent For Outstation Cab In Delhi
One way Taxi
Round Trip 
Taxi For Wedding
FAQs Taxi Service In Delhi