Taxi Service In Khatu Shyam Ji
Book Car Rental In Khatu Shyam Ji
It Is very Easy To Book Taxi Service In Arya Cab
Arya Cabs is providing taxi service in Khatu Shyam Ji since 2009. We provide one side to Khatu Shyam Ji as well as many other cities of Rajasthan and India like Udaipur, Delhi, Jaisalmer, Gurugram, Ajmer, Kota, Bikaner, Jodhpur, Pushkar, Agra provide round trip .
Arya cabs can easily book taxi for Khatu Shyam Ji Visit and hotel to Jaipur airport drop and railway station dropping if customer make advance booking few days in advance then they are given discount offer by us customer as per their convenience Innova 7 + 1 Etios 4 +1 , Crysta 7 +1 can book by calling.
Outstation Cabs Rates From Khatu Shyam Ji
CAB - HATCHBACK
FARE STARS – 9.5 ₹ PER KM
Details
Seating Capacity – 4
AC – Yes
Luggage – 2 Bagges
CAB - SEDAN
FARE STARS – 10.5 ₹ PER KM
Details
Seating Capacity – 4
AC – Yes
Luggage – 4 Bagges
Details
Seating Capacity – 6/7
AC – Yes
Luggage – 5/6 Bagges
OUTSTATION TAXI RATES FROM KHATU SHYAM JI
| | | | | |
| --- | --- | --- | --- | --- |
| CAB TYPE | RATES PER KM | DRIVER ALC | SEATING | PER DAY RUNNING KM |
| Hatch Back | 9.5/KM | 250 | 04 | 250 |
| Sedan | 11/KM | 250 | 04 | 250 |
| SUV | 15/KM | 250 | 06/07 | 250 |
| MOV | 23/KM | 300 | 12/14 | 250 |
Khatu Shyam Ji Near By Visit Places
Khatu Shyam Temple
Shri Khatu Shyam ji's childhood name was Barbareek. Khatushyam ji was the son of Ghatotkach, son of mighty Bhima and Kamkatankakata "Morvi", daughter of King Daityaraj Moor of Pragjyotishpur (present day Assam). He worshiped Lord Shiva and received three arrows from him. In this way he came to be known as the bearer of three arrows and Durga being pleased gave him a bow which could give him victory in all the three worlds. He also wanted to fight. He went to his mother and said, I also want to fight the war of Mahabharata, then his mother said, Son, on whose side will you fight? Then he said, I will fight on the side of the loser. When he was going to fight, he met Shri Krishna on the way. Shri Krishna was very pleased with the great sacrifice of Veer Barbarik and gave a boon that in Kaliyuga you will be known by the name Shyam, because in that era only the one who supports the loser is able to bear the name Shyam.
His head was buried in Khatu Nagar (present-day Sikar district of Rajasthan state) hence he is called Khatu Shyam Baba.
Mangal Aarti 5.30Am Winter/ 4.30Am Summer
Pratah or Shringar Aarti 8.00 Am Winter / 7.00 Am Summer
Bhog Aarti 12.30 pm Winter/ 12.30 Pm Summer
Shyam Kund
This is a sacred pond near the temple where the head of Khatu Shyam ji was taken out to show that whoever dips in this pond gets rid of his diseases and gets good health. People come here from different places for Phalgun fair and consider it holy after taking bath. People bring water from here which they use to cure many diseases.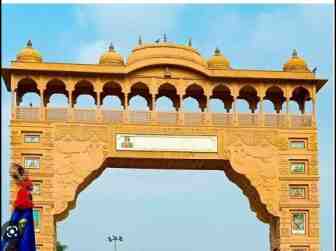 Khatu Shyam Ji Toran Gate
Shyam Toran Gate has been built at some distance from Khatu Shyam Temple, here all the Shyam Darshan people who come from outside bow their heads here and pray to Shyam Baba. This is considered to be the main gate of Khatu Shyam Temple. This gate is only a few feet away from the temple.
Golden Water Park Khatu Shyam Ji
The Golden Water Park is located at a short distance from Khatushyamji. Visitors coming to Khatu Shyam can get relief from the heat by going to the Golden Water Park during the summer. He can enjoy his family seven
Khatu Shyam Ji To Near By Temple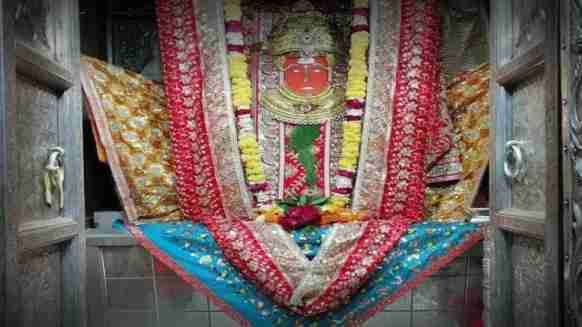 How Can book Taxi Service in Khatu Shyam Ji?
If you have come to visit Khatu Shyam Ji, then you can easily book a taxi for Khatu Shyam Ji Darshan through Arya Cabs, for booking, the customer can contact us on 9785787745 and apart from this, cab booking can also be done through WhatsApp chatting. For booking a cab, the customer has to provide an ID proof in which his permanent address is written, apart from this, the customer has to pay Rs 500 or 1000 for booking a taxi. On booking, the customer is informed through email message or WhatsApp is sent and complete confirmation of the booking is made in the notice.
Online Taxi Booking In Khatu Shyam Ji With Arya Cab
If you have come to visit Khatu Shyam Ji with your family, then you can enjoy the journey by booking online through Arya Cab Taxi Service. It is very easy to book a taxi on our web portal, you can call us and book a taxi by whatsapp. We provide Innova Crysta 7+1 and Etius, Dizre 4+1 type of cabs for Khatu Shyam Ji Visit. In Khatu Shyam Ji Darshan scene, Shyam Kund , Jeen Mata Mandir, Golden Water park, Harshnath Temple are mainly visited.
Taxi & Cab Service In Khatu Shyam Ji For Outstation 
To meet the requirement of the customers we provide outstation cab service. Customer can also book taxi through Arya cabs for 1 day and 5 days or Rajasthan trip. Minimum car 250 kms per day for outstation travel and ₹200 driver night charge. He has to pay toll tax and parking. According to the customers, we are also given tour packages to meet their needs. In this packing, toll parking driver allowance is included.
Rent For Outstation Cab In Khatu Shyam Ji
One way Taxi
Round Trip 
Taxi For Wedding
FAQs Taxi Service In Khatu Shyam Ji
 Taxi Routes From khatu Shyam Ji