Taxi Service In Jaisalmer
Book Car Rental In Jaisalmer
It Is very Easy To Book Taxi Service In Arya Cab
Arya Cabs is providing taxi service in Jaisalmer since 2009. We provide one side to Jaisalmer as well as many other cities of Rajasthan and India like Udaipur, Bhilwara, Jaipur, Gurugram, Ajmer, Kota, Bikaner, Jodhpur, Pushkar Delhi Agra provide round trip .
Arya cabs can easily book taxi for Jaisalmer sightseeing and hotel to airport drop and railway station dropping if customer make advance booking few days in advance then they are given discount offer by us customer as per their convenience Innova 7 + 1 Etios 4 +1 , Crysta 7 +1 can book by calling.
Outstation Cabs Rates From Jaisalmer
CAB - HATCHBACK
FARE STARS – 9.5 ₹ PER KM
Details
Seating Capacity – 4
AC – Yes
Luggage – 2 Bagges
CAB - SEDAN
FARE STARS – 10.5 ₹ PER KM
Details
Seating Capacity – 4
AC – Yes
Luggage – 4 Bagges
Details
Seating Capacity – 6/7
AC – Yes
Luggage – 5/6 Bagges
OUTSTATION TAXI RATES FROM JAISALMER
| | | | | |
| --- | --- | --- | --- | --- |
| CAB TYPE | RATES PER KM | DRIVER ALC | SEATING | PER DAY RUNNING KM |
| HatchBack | 9.5/KM | 250 | 04 | 300 |
| Sedan | 11/KM | 250 | 04 | 300 |
| SUV | 15/KM | 250 | 06/07 | 300 |
| MOV | 23/KM | 300 | 12/14 | 300 |
Jaisalmer Tourism Attraction Visit Places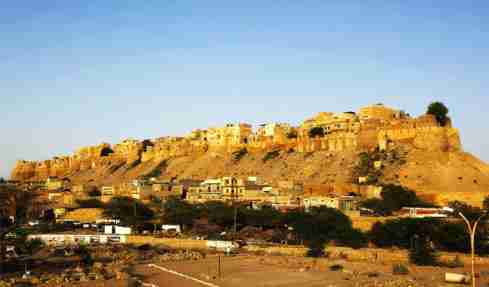 Jaisalmer Fort
Jaisalmer Fort is known as the Shravan Fort of Rajasthan. This fort was built by King Jaisal in 1156 AD. It is one of the famous forts of the world. This fort shines like a gold in the desert.This fort stands tall and proud displaying the magic of Rajasthani architecture.
Opening Timing :- 9.00 Am To 5.00 Pm
Duration :- 2.30 Hours
Ticket :- 50 /- Rs Per person indian
             250 /- Rs per person Foreigners
             100 /- Rs video Camera
Gadisar Lake
This is an artificial lake. This lake is located in the southern part of Jaisalmer. It was built by King Rawal Jaisalmer, the founder of Jaisalmer. This is the only water source of Jaisalmer.
Opening Timing :- 8.00 Am To 8.00 Pm
Entry Fees :- 0/- Rs
100 Rs Peddal Boat 2 Seater/ 200 Rs Peddal Boat 4 Seater 
300 Rs Row Boat (6 Seater)
Natmal ji ki Haveli
Nathmal ki Haveli is also one of the famous tourist places of Jaisalmer. Its construction was made of yellow sandstone. The architects had not seen these things, yet made it amazing with their mental science.
Opening Time :- 10.00 Am To 9.00Pm
Entry Fess :- 0/- Rs
Jaisalmer War Museum
The Jaisalmer War Museum was established in the year 1971 to honor the soldiers who fought in the Battle of Longewala. It is located at a distance of 2 hours from Jaisalmer. Here you will find the soldiers who represent their country and their pride. One can see the generating tanks and other monuments.
Opening Time :- 9.00 Am to 6.00 Pm
Entry Fees :- 30/- Rs Per Person
Badh Bagh
Bada Bagh was a dam built by Maharaja Jaisingh II of Jaisalmer State in the 19th century during his reign to create a water tank. It is situated on a small hill. The entrance to Badha Bagh is from the bottom of the hill. Many monuments have been built here.
Opening Time:- 8.00 Am To 6.00 PM
Entry Fees :- 50/- Rs Indian / 100 Rs Foreigners
Jain Temple
Just as Taxila and Nalanda are famous, in the same way the fame of the ancient University of Lodrava is far and wide. The structure of Lodrava Jain temple is very strange and grand. The roof of this temple is divided into panels. Ashtapad fell on Samosaran near this grand temple. And a beautiful creation of Kalpavriksha has been made on it.
Opening Time :- 8.00 Am To 12.00 Pm
Entry Fees :- 0/- Rs For Indian
                       10/- Rs Per Person Foreigners
                      50/- Rs Camera/ 100/- Rs Video
Sam Sand Dunes
The tourist place Samsand Dunes is most liked by the tourists because here Rajasthani dance Rajasthani food as well as Camel ride can be enjoyed together by jeep. It is about 40 kilometers from Jaisalmer City. And it is known as Desert Camp.
Opening Time :- Anytime 
Entry Fees :- 0/- Rs
Patwon Ki Haveli
Patwon ki Haveli is made up of five havelis. The five houses of this haveli were completed within 60 years in the 19th century. It is the largest haveli of its kind in the city of Jaisalmer. The display of arts and crafts is seen, the most important thing is that its wall has been worked with mirrors.
Opening Time :- 9.00 Am To 5.00 Pm
Entry Fees :- 100 /- Rs Per Person
                       50/- Rs Camera
                      100/- Rs Video Camera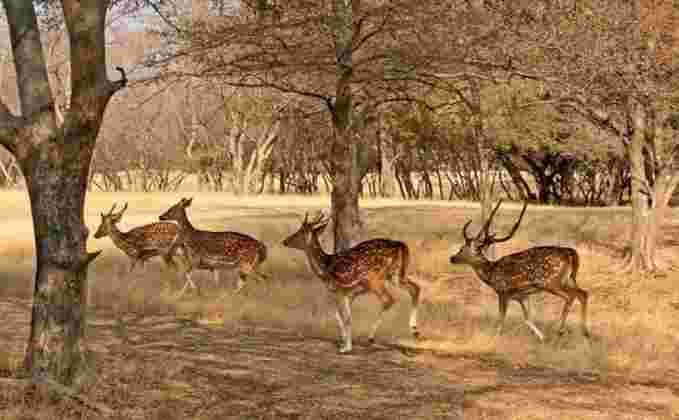 Desert National Park Jaisalmer
The Desert National Park located near the city of Jaisalmer is the largest national park of its kind in the country. The most important thing about this park is that this park seems endless to see. This national park also has a collection of fossils of animals and birds. But 6 million years old dinosaur fossils have been found and it covers a vast area extending from India to Pakistan and from Jaisalmer to Barmer.
Opening Time :- 10.00 Am To 5.00 Pm
Entry Fees :- 100/- Rs Per Person
                      100 /- Rs per Person Jeep Safari
                             200/- Rs Guide
 Taxi Routes From Jaisalmer